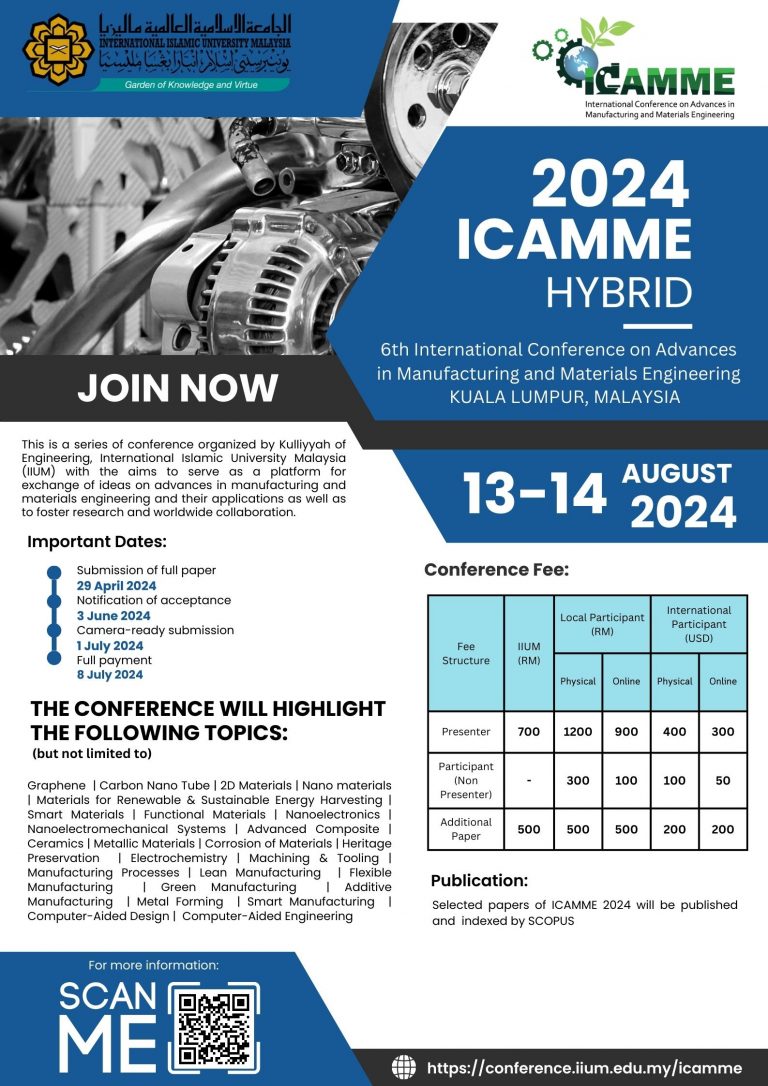 Important Dates
Submission of full paper deadline
29th April 2024  
Notification of acceptance
3rd June 2024
Camera-ready paper submission deadline
1st July 2024 
Full payment deadline
8th July 2024 
Conference dates
13 & 14 August 2024
1. INTRODUCTION
6th International Conference on Advances in Manufacturing and Materials Engineering (ICAMME) 2024 is a series of conference organized by the Faculty of Engineering, International Islamic University Malaysia (IIUM) and the Department of Manufacturing and Materials Engineering, as a part of IIUM Engineering Congress (IEC) 2024. ICAMME 2024 involves keynote speech by prominent researchers from Manufacturing and Materials Engineering field, and oral contributions by participants.
This two-day conference will cover discussions on the advanced manufacturing and materials engineering topics, including scientific problems and findings that emphasize the current development and deliberate on recent innovations which are congruent to the future trends in the related fields. It is also expected to be a platform to provide opportunities for researchers and academicians to expand their networks.
This event will be held virtually from Kuala Lumpur on the 13th and 14th of August 2024.
2. OBJECTIVE
The main objective of organizing this congress is to provide an international technical forum for engineers, academicians, scientists, and researchers to present results of ongoing research in different areas related to Material and Manufacturing Engineering. The primary focus of the conference is to create an effective medium for institutions and industries to share ideas and knowledge, exchange information, innovations, and products.
Other objectives of this conference include:
To be the meeting point in providing the methodology and framework of rigorous thought for engineering developments.
To be the conduit between the developed and developing countries in terms of research issues and technology competency.
To activate research culture in developing countries and make IIUM the hub of research and innovation in engineering.
To broaden the horizons towards research-commercialization and further activate industrial-linkage especially among the developing nations.
To get the participation from developed countries as speakers and presenters to benefit the participants especially from the developing countries in terms of the innovativeness of their superior technological prowess.
To gather educators and practitioners to address the latest trends and common challenges in the conduct of online teaching and learning.
3. SCOPE
Graphene, Carbon Nanotubes, 2D Materials, Nanomaterials, Materials for Renewable and Sustainable Energy Harvesting, Smart Materials, Functional Materials, Nanoelectronics, Nanoelectromechanical Systems, Advanced Composite, Ceramics, Metallic Materials, Corrosion of Materials, Heritage Preservation, Electrochemistry, Machining and Tooling, Manufacturing Processes Lean Manufacturing, Flexible Manufacturing, Green Manufacturing, Additive Manufacturing, Metal Forming, Smart Manufacturing, Computer-Aided Design, Computer-Aided Engineering
4. PARTICIPANTS
Engineers, academicians, scientists, researchers, technologists, entrepreneurs, industrialists, interested parties, and any of those in the area of manufacturing engineering, materials engineering, and related technologies.
5. PUBLICATION
All accepted papers of ICAMME 2024 is expected to be published in SCOPUS indexed Journal.
*Mode of presentation is recorded video (live presentation is optional)